Please Click on Individual Photos to enlarge.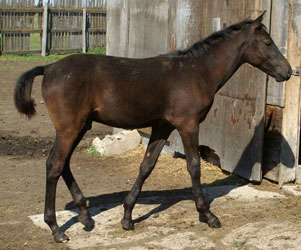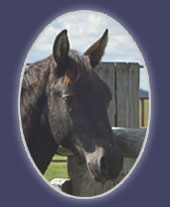 2007 March 18 [CAN]15611
Black (homozygous) Coat Color DNA: E/E a/a


Sire: Samuel North
Dam: In Him Taheala Breeze

PEDIGREE



Well, here he is! Our very first foal, and we couldn't be more pleased. He's an unmarked black colt and he was foaled on a cold, windy morning. On his very first day we were able to handle Norm's feet and we have dicovered that he arches his neck when you give it a scratch! He reminds us a lot of his 'Auntie' Mindy and he should mature to be a tall, athletic horse. He could make a good stallion prospect for someone, but we'd be just as happy to have him stay around here as a gelding.

While Norm's breeding is not quite Foundation, his pedigree is a wonderful combination of old Morgan bloodlines. His pedigree includes Omar Sheriff, Romanesque, Knox Morgan, Linsley, Fudge Royal, Archie O and the great western Jubilee King & Red Correll.





Congratulations to Barry Barager of Pincher Creek, AB on his purchase of this fine black colt!







Home | Sales | Stallions | Mares | Geldings | Foals | Links | Contact