Please Click on Individual Photos to enlarge.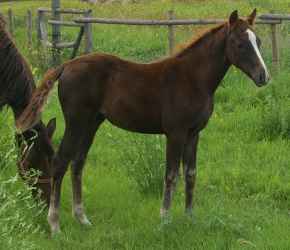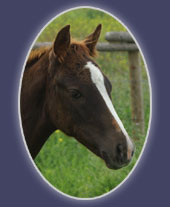 2008 May 10 [CAN]16216 [USA]------
Liver Chestnut
----H

Sire: Bar L T B Tiger
Dam: Bar L T Molly II

PEDIGREE




Justy came to us with her dam from a dispersal sale in Alberta. She is a sweet filly and she has been at Anchor Bar farm getting used to being caught daily and tied in overnight. Her sire (Bar LT B Tiger) is not quite Foundation, but he has a nice short back, lots of bone and is very typey. He also adds more Red Correll through Drumlin Rebel, Oak Acres Polly and Justamere JB Lucy so Justy's pedigree repeats the same horses on both the top and bottom for a nice balance. She is the result of 4 generations of one breeding program. Justy's dam is very quiet and Justy seems to be like her in temperament, so she should mature to be a laid back mare. She also looks like she will mature to a good size, perhaps 15H.
Justy's pedigree combines Linsley, Will Rogers, Romanesque, Winterset, Dude and a little Billy Herod (a Herod son).





Congratulations to Robin Holstein of Redvers, SK on her purchase of this pretty dark chestnut filly!







Home | Sales | Stallions | Mares | Geldings | Foals | Links | Contact