Please Click on Individual Photos to enlarge.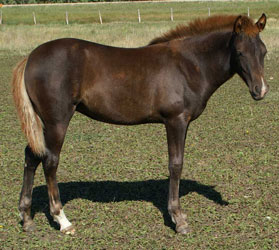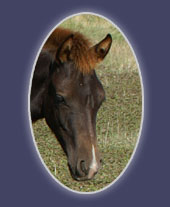 2009 May 14 [CAN] 16312 [USA]_______
Chestnut Coat Color DNA: e/e
__H

Sire: BDM Pal's Golden Baner
Dam: BDM Canadian Sundust

PEDIGREE



This pretty little filly arrived the morning of a late spring blizzard and we find her arrival to be a wonderful herald of the end of snowy times until next winter. She has proven to be hardy, trotting and bucking around on her first day. Little Kizzy is one of our most vocal foals, whinnying when she is galloping around. If you look closely you will see she has a snip as well as a tiny star. Kizzy's dam has wonderful conformation, as does her sire so we expect this little filly to mature into a beautiful mare. Her dam is one of our most inquisitive, bold, and friendly mares so we would expect the same from Kizzy. We are very pleased with this finale to our foaling season and look forward to seeing this little girl mature!

Kizzy's pedigree is well balanced from sire to dam, including multiple lines to Jubilee King, Red Correll (through Correll King, Morgan Gold, Red Lulu and Black Luellen), Linsley, Winterset, and more lines to Herod through Captain Jack among others. She also adds a line to Bulrush through Red Flash.






Congratulations to Aura & René Pombert of Belle Coulée Morgans for their purchase of Kizzy. See their website HERE.






Home | Sales | Stallions | Mares | Geldings | Foals | Links | Contact