Please Click on Individual Photos to enlarge.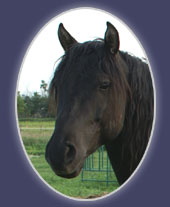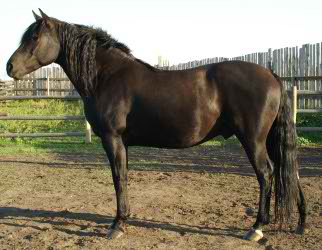 2004 June 09 [CAN]14221 [USA]
Black
14.3 H

Sire: JMF Sunday Hawk
Dam: Rocking M Isadora

PEDIGREE



When we decided to purchase this boy's brother Blaze for my husband to ride, I thought that having a gelding around to ride was a great idea so we purchased Eclipse as well. Clipse is shorter than Blaze, but he is more heavily built. He shares the friendly attitude of the rest of his family and the same eye-catching looks. He has curves in all the right places! He has that robust old-style Morgan conformation with a wide, blocky head and expressive eyes. He adjusts to new surroundings and new people quickly and seems unconcerned about new experiences.

Clipse shares the same dam as our mare Glory and the same sire as Blaze and Lady. His dam Isadora was close up Correll King and Whippoorwill Duke, and his sire (while not quite Foundation) brings in multiple Flyhawk, Senator Graham and Senata, Jubilee King and more lines to Linsley and Herod.




Eclipse has completed 90 days saddle training, and is ready to go to work! With many horses to ride I felt this boy could go on to someone who has more time to dedicate to him than I will, so I have decided to offer him for sale. This is a big, strong gelding with lots of bone and great feet. He is a bold mover and has no bottom, our trainer says he is lots of fun to ride!

Eclipse is currently offered for sale, see his listing on our sales page.

Suggested Disciplines: Trail Riding, Community Pasture (this boy could drag calves to the fire all day), Cowboy Challenge (he has done some of this already), Cowboy Mounted Shooting (although he has not been exposed to gunfire yet).
Suggested Rider Level: Intermediate to Advanced

Click links below for streaming video!
Spring 2015




| | | |
| --- | --- | --- |
| | | |
| | | |
Home | Sales | Stallions | Mares | Geldings | Foals | Links | Contact