Please Click on Individual Photos to enlarge.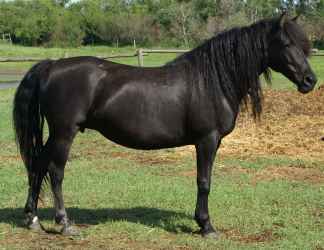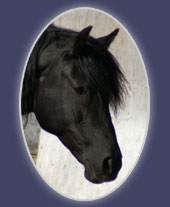 2000 April 28      [CAN]11931      [USA]0176718
Black
15.1 H

Sire: Night Hawk of Rocking M
Dam: Rocking M Isadora

PEDIGREE



My ongoing quest to add Red Correll blood to my herd led me to the discovery of this mare, Glory. I had decided that my current black filly didn't quite fit what I was looking for and when I saw Glory I was impressed by her colour and her curvy good looks. Glory is a wonderful addition to our program, bringing in two different lines to Red Correll. She is very close to Red Correll on three lines of her pedigree which is unusual for a mare this young. She has not yet been broke to ride, and I look forward to working with her toward this goal. Her long thick mane and curvaceous shape bring to mind the wonderful baroque old-style Morgans that I strive to produce in my breeding program. If you look closely, you will see Glory's right hind leg has a sabino roaned sock so I am also interested to see how much white she will throw to her foals.

Glory is double Blackwood Correll on the top side and is Correll King on her dam's sireline, bringing in two Red Correll lines on three lines of her pedigree. She also has Whippoorwill Duke, Squire Burger, General Gates and Romanesque as well as Herod Panic.

Many thanks to Michell Heidecker of Middle Lake, SK for giving us the opportunity to add Glory to our broodmare herd!




Glory foaled a beautiful bay colt on March 20, 2009. To see Beau's page click HERE






Home | Sales | Stallions | Mares | Geldings | Foals | Links | Contact