Please Click on Individual Photos to enlarge.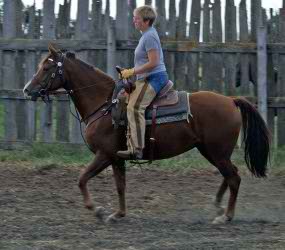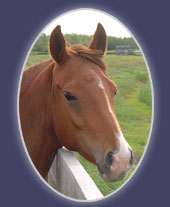 2000 April 29 [CAN]12846 [USA] 0173070
Chestnut
14.2 H 950lbs

Sire: Day Dreamer's Blaze
Dam: Ayr Band Nikika

PEDIGREE



Lily was our first Morgan purchase. We had purchased Sundust and wanted to have a companion for her, so I got busy looking for Saskatchewan Morgan breeders and found Lily near Francis, SK. Lily was just beginning under saddle so she was sent to a local horse trainer and was trained for Western riding. Lily would be a good endurance horse and is quite catty so she can turn a quick corner. Our trainer would like Lily & I to start working cattle, and thinks Lily has the quickness to do well at it. We also discovered that she can jump a fence to get out (or in) if she wants! My main purpose for Lily is to be my pleasure horse, and maybe we will go to the local Morgan show, who knows!




After long consideration I realize that I do not have the time to utilize Lily's training and ability, and she does not fit our breeding program so I have decided to offer her for sale at this time. She was well started by a professional trainer and has been on rides through meadows/brush in summer and through snowbanks in winter, has seen deer, birds, etc. she has also been arena ridden. She can half-pass and full pass, we were working on 2-track (haunches in to arena) and also working on doing turn-on-haunches, she also has been trained to STAND when you get off and walk away. She also responds to leg cues as well as reins so is fairly advanced in her training. She has been trained by a western trainer, but the trainer has also done dressage, hunter/jumper and so she trains the horse for multi-discipline.
Could be offered in a package deal with Sundust.

Click links below for streaming video!
Spring 2015







Home | Sales | Stallions | Mares | Geldings | Foals | Links | Contact