Please Click on Individual Photos to enlarge.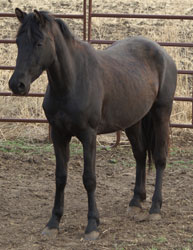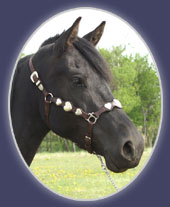 2005 May 17 [CAN]14724 [USA] 0173068
Black (homozygous) Coat Color DNA: E/E a/a
15.2 H 800lbs

Sire: DM High River Rendition
Dam: Small Acres Wildsumr Nite

PEDIGREE



I admit I am one of those people who have always wanted a black horse, so when I found this homozygous black filly I just had to go see her. Mindy has a beautiful floating trot and a wonderful upheaded manner that is absolutely captivating. She generally has a laid back nature and was quick to catch on in the round pen, but she has shown a little spunk, so she should be similar to Taheala under saddle. Mindy has been putting a lot into simply growing taller since we got her (she should finish near 16hh) so she has not yet started filling out, I am sure she will be a stunning mare when she has finished growing. We look forward to someday adding her to our broodmare herd, after we have had some fun just riding her. Mindy's pedigree includes Omar Sheriff, Romanesque, Knox Morgan, Linsley and the great western Jubilee King & Red Correll.





After much consideration, we have decided that Mindy does not fit our breeding program. We want to concentrate on Archie O and Red Correll, and while this is a lovely filly we thought someone should have her that would make better use of her than we can at this time. We have therefore decided to offer this lovely girl for sale, see her listing on our sales page.







Home | Sales | Stallions | Mares | Geldings | Foals | Links | Contact