Please Click on Individual Photos to enlarge.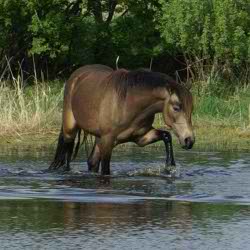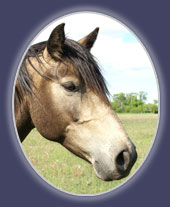 2004 April 24 [CAN]14465 [USA] 0173069
Buckskin
14.2 H

Sire: Pines Federko Man
Dam: McCarr's Mocha Dawn

PEDIGREE



When we decided that we wanted to get into Morgan breeding, we thought that coloured Morgans would be nice. I found Molly for sale in Northern Saskatchewan and when I saw her I thought she was a sweetheart. She is a quiet filly that is a quick learner and is always easy to catch in the field as she loves people. We are considering her as a future Pony Club or 4-H mount for our daughter, she would certainly be a flashy mount! Molly is a sooty buckskin with black around her eyes for a lovely exotic look. We look forward to adding her to our broodmare herd in the future is she stays here, hopefully she will produce some fancy coloured foals.

Molly has some lovely horses in her pedigree including some Lippitt, Knox Morgan, Linsley, and many lines to the great western Jubilee King.





This is a mare I hadn't planned to part with, but we have a lot of horses broke for riding so we would consider parting with this sweet girl. Molly is a very intelligent mare who really looks out for where her feet are, she is not the type to stumble over things! She has a willing nature and a lot of energy under saddle, our trainer says she is lots of fun to ride!

Molly has completed 90 days saddle training, and is offered for sale to the right home, see her listing on our sales page.

Suggested Disciplines: 4-H or Pony Club (for a confident rider), Trail Riding, Cowboy Challenge (she has done some of this already).
Suggested Rider Level: Confident Beginner to Intermediate




Click links below for video of Molly under saddle!
December 2011 330 kb




Home | Sales | Stallions | Mares | Geldings | Foals | Links | Contact