Please Click on Individual Photos to enlarge.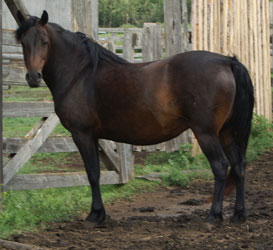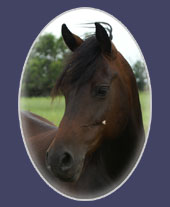 1996 May 19 [CAN]10587 [USA]0172208
Dark Bay
14.3 H

Sire: CR Sirroco
Dam: Scor-Mor Royal Lee

PEDIGREE



After reading about Lippitt morgan bloodlines, I was intrigued by the thought of seeing or perhaps owning a Lippitt morgan to see if they differ from standard morgans. I wasn't planning on purchasing another mare, but after seeing Suzy on a local breeders site and reading that she is 3/4 Lippitt, I just had to go see her. I have to say that Suzy is one of the most striking mares I have seen. She has a beautiful head, classic morgan conformation (the Lippitt sure shows here) and wonderfully expressive eyes. She has wonderful English style movement with lots of knee height and a beautiful up-headed, tail flagging trot that she can extend to a road trot to cover ground with amazing style.
Suzy went for western saddle training spring of 2011 and is a very forward and athletic mare. She would be for an intermediate to advanced rider due to her high energy attitude as she likes to do everything with gusto and is a very bold mare. She is very flashy under saddle and makes an impressive mount!





Suzy went for 90 days training this spring as is now home with us again! The trainer was impressed with her athleticism and said she really likes to get out and move!





Home | Sales | Stallions | Mares | Geldings | Foals | Links | Contact

>