Please Click on Individual Photos to enlarge.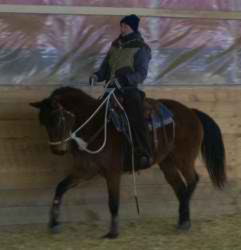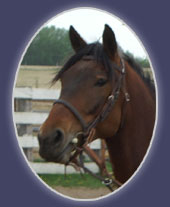 2002 May 18 [CAN]13915 [USA]0172856
Red Bay Coat Color DNA: E/e A/a
15.3+ H

Sire: DM High River Rendition
Dam: Licorice Lady

PEDIGREE



I purchased Taheala's half sister by the same sire earlier in 2006 and when I was offered Taheala in foal to a 100% Foundation stallion I couldn't resist, even though I really wasn't looking to add another mare. Taheala is a beautifully classically bred mare, with height you don't often see in a morgan (close to 16hh). I have been told that Taheala means healing and she was foaled on a cold windy night so her name stands for healing breeze. Her pedigree includes Omar Sheriff, Romanesque, Knox Morgan, Linsley and the great western Jubilee King & Red Correll.




Taheala has been Sold! Thanks to all who inquired about this mare!



Click links below for streaming video!
Circle/Half Pass 774 kb
Figure 8/Stop 1200 kb
Back/Turn/Walk Out 1970 kb
Side Pass Right 899 kb
1/2 Pass/Walk Out 1920 kb
Side Pass Left 1020 kb
Trot/Stop Around Arena 4810 kb




Home | Sales | Stallions | Mares | Geldings | Foals | Links | Contact