Please Click on Individual Photos to enlarge.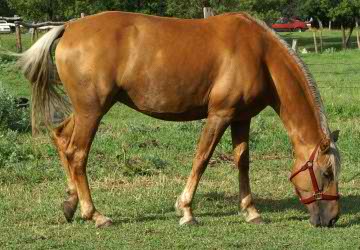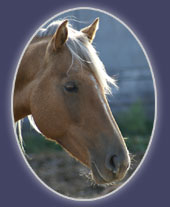 2001 March 28 [CAN]15629 [USA]0156011
Sooty Palomino
15.0+ H

Sire: Mac's Littlebritches
Dam: Kenels Pegof Myheart

PEDIGREE



It was said of Red Correll by his last owner Wallace Mills "If it were the heritage of Justin Morgan that his descendants should walk the earth proudly, serve man willingly, work vigorously, move gracefully and posses a kindly eager spirit, dauntless courage, a distinguished way of going, and an easily recognizable beauty of conformation - then Red Correll embodies in this day the characteristics for which Justin Morgan became famous."

It was that quote that first set me on my search for Red Corrells, and behind Red Correll - Herod. My first find was Promise from Manitoba and when I saw this mare, Tuffy, I couldn't pass her up. Not only does she have an infrequently seen Foundation line to Red Correll through Yellow Cat through Mac's Littlebritches, but she is also Palomino. This mare combines both of our goals, Red Correll and colour breeding. She is slightly taller than our current Correll mare, and has been trained for English riding. My husband is looking forward to trying out a Morgan that is better suited to his height, and his favourite colour as well.

Tuffy is double Yellow Cat on the top side and has more lines to Red Correll through Miss Rockwood and Rockwood Queen. She also has additional lines to Herod through Prince De Jarnette, Congo, Trinandee, Ching Free and Misma, plus multiple lines to the great Jubilee King (the Justin Morgan of his time). She traces back to at least three well known Justin Morgan sons Sherman, Bulrush and Woodbury.





Tuffy gave us a beautiful palomino colt on May 09, 2009. Check out our new man's page HERE.







Home | Sales | Stallions | Mares | Geldings | Foals | Links | Contact