Please Click on Individual Photos to enlarge.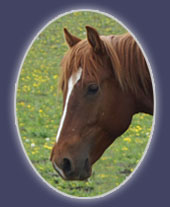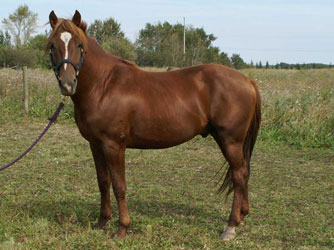 2008 June 12 [CAN] 16089 [USA] _______
Flaxen Chestnut Coat Color DNA: e/e A/A
14.1H 850lbs

Sire: Kristofer-Nugget
Dam: Maneline Victory March

PEDIGREE



This young colt is the first foal that we planned the breeding for, purchasing a stallion from the US and breeding him to one of our mares with a rich pedigree of old blood, wonderful temperament, and lots of bone. Little Nugget's sire, Kristofer-Nugget only produced this one foal for us before we lost him too soon. We are pleased with Nugget's conformation to date, and will continue assessing him as he progresses toward adulthood. We feel he could posses the qualities we are seeking in a herd sire, so we are including him as a prospect on our Stallion page. Nugget is friendly and curious, always eager to approach people. He carries a lot of bone and is well balanced with a nice laid back shoulder which lends to an upright neck-set, he also shows nice depth of hip and a reasonably short back. He has a magnetic presence, catching and holding the attention of everyone who has seen him, he very much reminds us of his sire Kristofer-Nugget, even at this young age. Nugget has had 30 days of Western training and had a nice start under saddle, he has been ridden 4 times bareback and 4 times under saddle. We will be sending back for more saddle training as he matures and may train him for driving as well since many of his sires offspring were Amish driving horses valued for their endurance.

Nugget's breeding is 100% Foundation and is a wonderful combination of old Morgan bloodlines. His pedigree includes Archie O, Red Correll, Ben Franklin, multiple lines to Linsley, Winterset, Troubador of Willowmoor, Jubilee King and Romanesque.





Click link below for video of Nugget!
September 2012 (at liberty)








Home | Sales | Stallions | Mares | Geldings | Foals | Links | Contact