Please Click on Individual Photos to enlarge.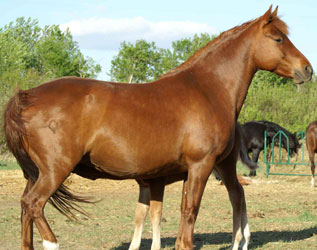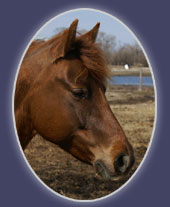 2001 May 18 [CAN]12765 [USA]-------
Chestnut
14.3 H

Sire: Duplicate Major
Dam: BDM Black Star

PEDIGREE



I first found Friendly (BDM Black Correll) from this ranch, and after I went to see her I thought I should see what other horses were in their herd. All their horses are wonderful examples of the old time Morgan that I desire to produce. Her pedigree is very impressive for a mare this young, going back quickly to some well known names in Morgan pedigrees. Candi has not had a lot of training to date, and we are considering breaking her to saddle. Red Correll's are known for their intelligence, ease of training, cow savvy, willingness and soundness. Candi should produce some great western horses!
Candi has many wonderful old horses in her pedigree, Jubilee King, Sun Dust, multiple lines to Red Correll (4 times on her 5 generation pedigree), Linsley, Winterset, and more lines to Herod through Captain Jack among others.

Many thanks to Wade & Sherry Wilbraham (Bar Diamond Ranch) of Alameda, SK for giving us the opportunity to add this girl to our broodmare herd!




Candi gave us a sweet little chestnut filly on May 14, 2009. Check out our sweet new girls page HERE







Home | Sales | Stallions | Mares | Geldings | Foals | Links | Contact