Please Click on Individual Photos to enlarge.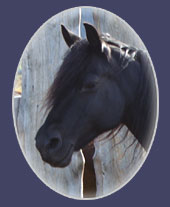 1992 June 01 [CAN]8920 [USA]0172097
Black
14.2 H

Sire: BDM Mr. Black Magic
Dam: Bettina Correll

PEDIGREE




While continuing my search for Red Correll offspring, I found this mare on the Canadian Livestock Records website. I have seen a number of BDM horses at the local horse show, and I was impressed with both their looks and their temperament. I was particularly impressed with this mare's pedigree (she is a Red Correll great-grandaughter) and I was not dissapointed when I saw her in person. She is one of my favourite colours (black!) and she reminds me of our mare Glory. Friendly is not broke to ride or drive, and we are considering whether or not we want to work on that. She comes from some very cowy lines, so she should produce some great western horses! Red Correll's are also known to be dependable horses with a warm friendly nature, I guess this girl comes by her barn name honestly!
Friendly has many wonderful old horses in her pedigree, including a tail male line to Jubilee King, multiple lines to Red Correll (she is a great-grandaughter to Red Correll on her dam's tail male line), Linsley, Winterset, and more lines to Herod through Captain Jack among others.

Many thanks to Wade & Sherry Wilbraham (Bar Diamond Ranch) of Alameda, SK for giving us the opportunity to add Friendly to our broodmare herd!




Friendly gave us a sweet little filly, a beautiful dark bay with a crescent star on May 11, 2009. Check out our sweet new girls page HERE







Home | Sales | Stallions | Mares | Geldings | Foals | Links | Contact